Pitchfork Teeswater Rams
---
Tim (Burrows 1047)
Single - Born 2013-04-04
Sire: FOT Brad Pitt Reg# 972 Dam: Burrows Teek Reg# 844
An 87.5% Teeswater from Wenslydale base, Tim arrived as a lamb in 2013 as part of our first year Teeswater flock acquisitions. His lambs are growthy with good fleeces. The lower-percentage ram lambs produce outstanding carcasses and pelts. 
Tim was sold in August of 2015 to benefit another flock and to allow more diversity in our bloodlines.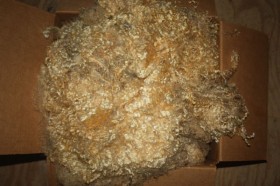 ---
PFR 851 AI
Triplet - Born 2015-03-01
Sire: Rimington Crusader 506 Dam: Burrows "Tang" Reg. #789
We have decided to keep this 90%, RR ram lamb back to work for us for the time being. Born and raised as a triplet with no extra nutrition, he has blossomed into an impressive young ram. We love his correct, heavy duty frame, excellent feet and legs, as well as his length and width of loin. His fleece is coming on nicely. We are looking forward to his first set of lambs. 
2,836 views