About Pitchfork
Cindy Cieciwa established Pitchfork Ranch in 1986 with the purchase of the 17-acre farm and Baa-Baa-Louie, an Angora doe goat. Within a year, she was joined by two Nubian goats, two Rambouillet sheep, and one natural-colored Romney sheep. Margaret Van Camp joined the operation in 1996. After several years, purebred Romneys proved to be the favorites and the flock grew to twenty breeding ewes. Llamas were added and goats were subtracted in the mid-90′s. Bluefaced Leicesters arrived at Pitchfork in 2005. After a few years of ups and downs, the flock numbers have stabilized at our present levels (thirty to thirty-five breeding ewes and 9 llamas). In 2005, the parcel across the road was purchased for hay production, bringing the total acreage to 30 acres.
The care and maintenance of the farm and flock is jointly shared by both of us. We try to work in our day jobs around the edges (Cindy works in clinical operations for a national non-profit long-term health care company, but is a nurse at heart; Margaret is a high school teacher). Sometimes we are more successful than others, but overall we try to run a fairly tight operation.
We are committed to producing exceptional sheep that can compete at the highest levels with much larger breeders. We have always placed quality above quantity. Our animals are easily managed, well-conformed, beautifully fleeced and reproductively guaranteed . We welcome the opportunity to provide continuing support after the sale, and have formed friendships with many of our customers.
Pitchfork Ranch is located in Swartz Creek, Michigan, less than ten minutes from three major expressways: I-75, U.S. 23 and I-69. We are about one hour northwest of Detroit, forty-five minutes east of Lansing, forty-five minutes north of Ann Arbor and ten minutes south of Flint. Please call or email to arrange a visit.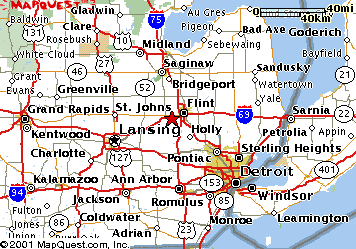 Pitchfork Ranch
4190 Cook Rd
Swartz Creek, MI 48473
(810) 655-4091
35,679 views